News
High Efficiency Transformers for Renewable Industry
January 1, 2020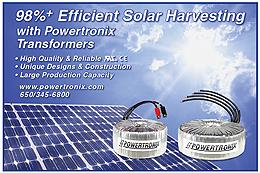 POWERTRONIX, provides the Solar Power Industry with high efficient Toroidal Transformers and Inductors, based on innovative, reliable designs with world wide safety agency approvals. We work closely with our customers to fully understand their needs and we provide unique, high quality, cost effective products, manufactured in our large ISO 9000 certified manufacturing facilities
Description
Powertronix energy conversion transformers are made to customer specifications. Design and construction process has been developed to overcome early saturation due to dc injection. Powertronix transformers are also resilient to harmonics and quiet. They are manufactured with high quality materials to assure high quality, long life and consistency.
Specification:
Power : 1kVA to 20kVA
Frequency : 47Hz to 63 Hz
Primary : customer specified
Secondary : customer specified
Efficiency : 95% to 98.6%
Isolation : 4kVA ( Hi-pot)
Temp rise: Customer specified
Insulation classes: A, B, F, H
Hi-pot : 4000Vrms
Safety : UL approved
RoHS : Compliant
Do You Know:
Toroidal Transformer has many advantages compare to tradition transformers due to its inherent construction method, which is favorable for Energy applications.
Smaller and lighter
High efficiency
Wide choice of mounting options
Lower no load power consumption
Virtually no audible noise
Wider choice of configuration
Typical Power Ratings:
¾ 1,200VA - 1Ǿ
¾ 2,400VA - 1Ǿ
¾ 3,600VA - 1Ǿ
¾ 4,800VA - 1Ǿ
¾ 6,000VA - 1Ǿ
¾ 12,000VA - 1Ǿ , 3Ǿ
¾ 20,000VA - 3Ǿ
¾ 30,000VA - 3Ǿ

Document Download: High-Efficiency-Transformers-for-Renewable-Industry.pdf