News
ISO 9001:2015 Certified
February 7, 2022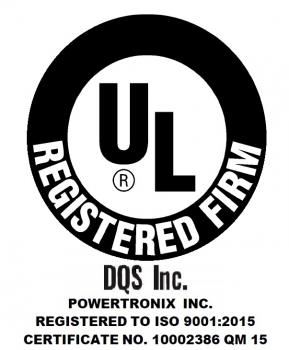 Upgrading ISO 9001:2008 certification to the latest International ISO 9001:2015 standard, reconfirms Powertronix commitment to quality, continual growth & development.
Powertronix underwent evaluation of all processes & document controls including the Quality Management System (QMS), Management review, Documentation / Work Flow Reviews & Key Process Indicators and was qualified March 20, 2018 to the new ISO standard ISO 9001:2015.
Since 1991, Powertronix has built its reputation on the design and manufacturing of Power Distribution and Specialty Transformers & Power Solutions, which are trusted in sensitive, mission critical applications.
"At Powertronix we are proud of our entire teams' commitment to quality & continual improvement. We look forward to providing our customers with the highest quality and reliable products, and continuing to exceed their expectations for designs, processes, & customer service. " Carl Svensson – CEO
Please click the below link to get our latest ISO 9001:2015 certificate.
Document Download: ISO-9001-2015-Certified.pdf